Venue
The conference takes place in the main building of the University of Leipzig. The main building is a complex of several buildings ("Hörsaalgebäude", "Seminargebäude", "Neues Augusteum").
The main building is close to "Augustusplatz" and the main station (5-10 minutes walking distance). There is a multi-storey car park at "Augustusplatz" (at most 8,- EUR/day).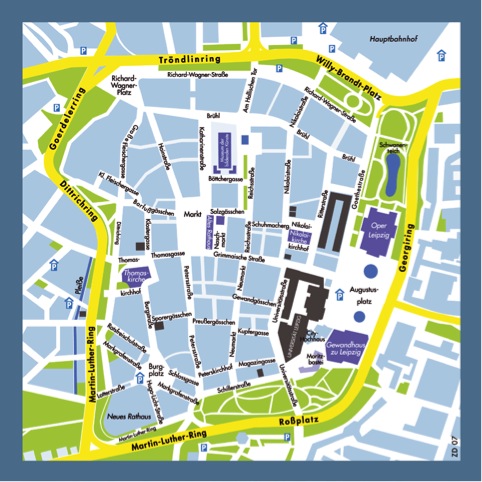 Apart from the plenary sessions, which will take place in the lecture hall "Audimax" (building "Neues Augusteum"), all workshops and associated events will take place in the building "Hörsaalgebäude". The conference office will be in located in room S 202 (floor 2, building "Seminargebäude"). "Seminargebäude" and "Hörsaalgebäude" are connected on floor 1 and 2.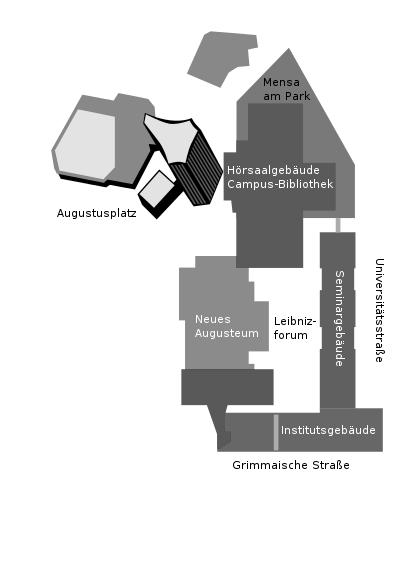 Arrival by plane
The Halle-Leipzig International Airport (LEJ) is served by several major airlines. There are connecting flights to the airports in Frankfurt, Stuttgart or Munich. Frankfurt aiport is also a stop for the train connection to Leipzig central station. If you travel via one of the airports in Berlin (Tegel or Schönefeld), you should take a train to Leipzig (either from Berlin central station or from Berlin-Südkreuz).
Leipzig airport can be reached from Leipzig central station in 22 minutes (local trains S5 or S5X: 'S-Bahn') or in 12 minutes (long-distance trains). The S-Bahn also stops at the stations 'Markt', 'Wilhelm-Leuschner-Platz' and 'Bayrischer Bahnhof'. Taxis will need about 30 minutes to city centre.
Accessibility information for disabled participants
All rooms in the university ('Hörsaalgebäude', 'Seminargebäude' and 'Augusteum' ('Audimax')) are accessible. The venue for the conference dinner ('Moritzbastei') is accessible, as well as the Town Hall (reception). Apart from some old trams most trams and busses are accessible. You can the list of accessible bus/tram stops here. General information on accessibility in Leipzig are given here.